Dear NNMCC patrons, members, volunteers, and friends:
We hope that you and your families are keeping healthy and connected. It is with immense gratitude that we share our thanks to all who have continued to support the Nikkei National Museum & Cultural Centre (NNMCC) through this challenging time. Here at the NNMCC, we continue to be guided by our mission:
to honour, preserve, and share Japanese culture and Japanese
Canadian history and heritage for a better Canada.
In response to the COVID-19 crisis, the NNMCC had to temporarily close its doors on March 18, 2020, and a reduction in our services was necessary. We focused on conserving resources, and supplementing with online activity to reach beyond our walls. Staff transitioned to work remotely and on-site as needed, with health and safety precautions of the utmost importance, in order to continue to serve our community and society at large. On our website and social media channels, we have shared arts and cultural activities, educational materials for students and teachers, and enhanced our online shop to expand our selection of museum products and specialty books for purchase from home.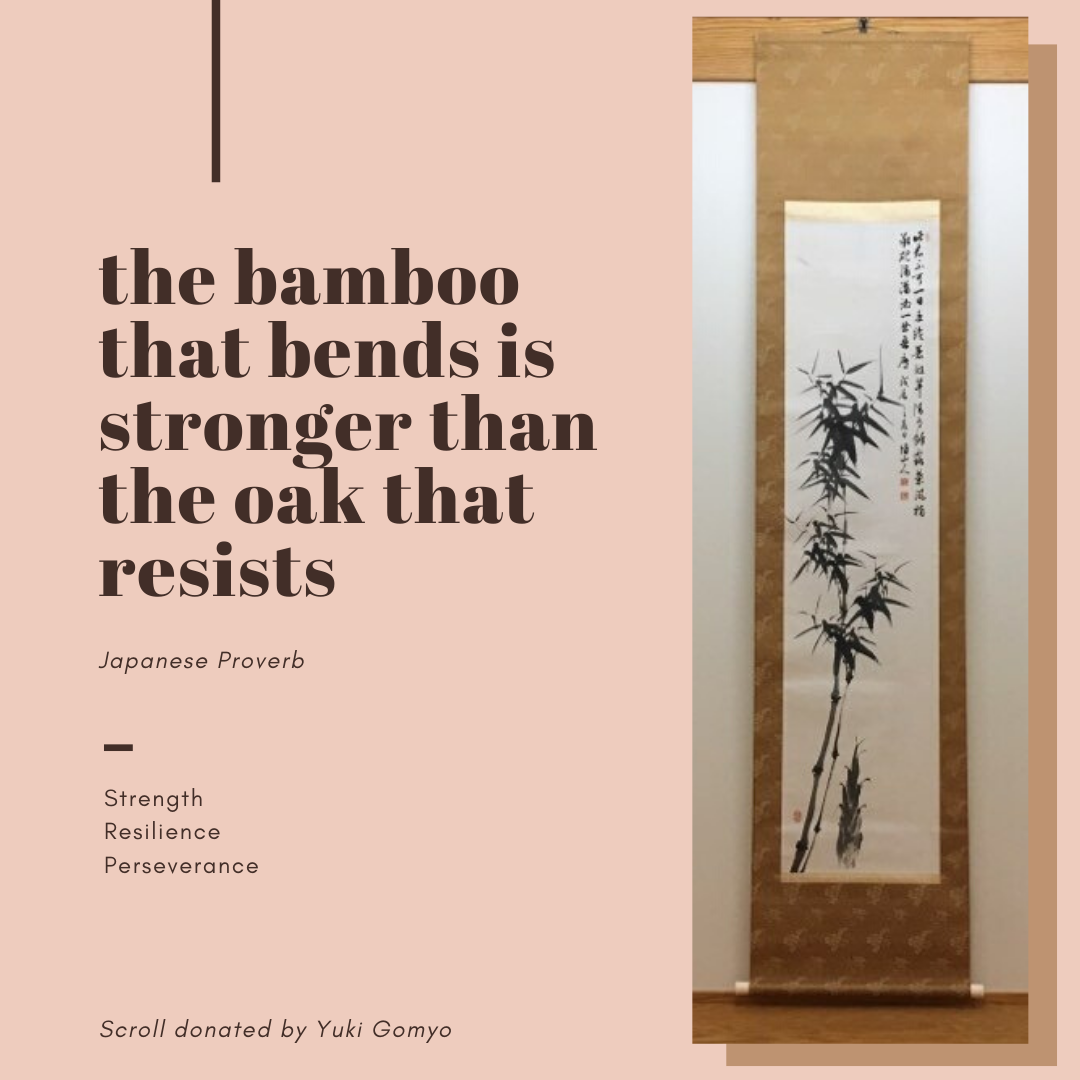 As the NNMCC prepares to reopen on Tuesday, June 2, 2020, I am reminded of this Japanese proverb:
The bamboo that bends, is stronger than the oak that resists. 
The strength, resilience, and perseverance of Japanese Canadians throughout history is a source of inspiration for us always, but especially this year, the 20th anniversary of the NNMCC at Nikkei Place, at a time of great uncertainty. Bamboo serves as a versatile resource in Japanese traditional and contemporary daily life. With its deep roots, the bamboo that bends will not break when facing adversity, but will bounce back to stand up tall. 
We look forward to welcoming you back safely to the NNMCC as we prepare and implement alternative activities to our regular events, programs, workshops, and ways of gathering. When you return to the NNMCC, we ask that you please take necessary precautions and follow guidelines and signage provided. 
Okaerinasai ~ welcome back. 
Sincerely,
Karah Goshinmon Foster | Executive Director
日系文化センター・博物館 会員、ボランティア、利用者の皆様へ
皆様とご家族が健康で過ごされていることを願っております。
このような状況の中、変らぬご支援をいただきましたこと、スタッフ一同心より御礼申し上げます。日系文化センター・博物館は使命である「より良いカナダの為、日系カナダ人の歴史と遺産に敬意を表すと共に保存し、日本の文化をコミュニティで分かち合う」を目的に、引き続き邁進してまいります。
当館は新型コロナウイルスの感染拡大防止のため、2020年3月18日より臨時休館し、一部業務の停止を余儀なくされました。この間スタッフは在宅勤務となり、出勤する場合には健康と安全に注意を図った上で、皆様に引き続き充実したサービスを提供できるよう、資料の保護やオンラインサービスに焦点をあてて業務を続けてきました。
当館のウェブサイト、ソーシャルメディアではアートや文化の紹介、学生や教育関係者向けの教材共有を拡大し、ご自宅からご購入いただけるよう、ミュージアムの商品や書籍を増やしてオンラインショップの充実化に努めてまいりました。
2020年6月2日の日系文化センター・博物館再開に際し、日本のことわざが思い浮かびました。
「柔能く剛を制す」(じょうよく ごうをせいす)
竹は日本文化には身近なものです。地にしっかりと根づき、強風に押されても元に戻ってまっすぐに立ち続けます。
日系カナダ人の歴史を通して伝わる強さと回復力、そして忍耐力は日々私たちに勇気と力を与えてくれるものですが、日系文化センター・博物館がこの不安定な時期に20周年を迎えるにあたり、特にこのことを感じます。
当館では皆様を安全にお迎えできるよう、イベント・プログラム・ワークショップ開催などにあたり、消毒面には細心の注意を図っております。ご来館の際はご自身でも必要な感染予防対策をされた上で、館内にあるガイドラインや案内に従っていただくようご協力お願い申し上げます。
皆様のご来館を、心よりお待ちしております。
日系文化センター・博物館 事務局長
ケーラ後新門フォスター