November 11, 10:40am at Stanley Park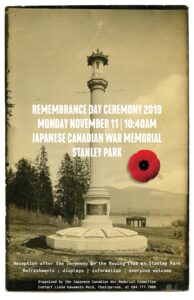 At the Japanese Canadian War Memorial, in Stanley Park
Ceremony begins at 10:40 am
On Vimy Day in Canada, the Japanese Canadian War Memorial was unveiled on April 9, 1920 in Stanley Park by the Canadian Japanese Association. More than 220 Japanese Canadian volunteers had enlisted in Alberta, when British Columbia blocked their opportunity to serve in the First World War.  With courage, bravery, and leadership, some served with the Fighting Tenth Battalion, and made a significant impact in the taking of Vimy Ridge in 1917.  In the words of Sgt. Masumi Mitsui MM "The French Army couldn't, but the Canadians took Vimy Ridge". 
In honour of the centenary, Vancouver Parks has graciously offered to bring the cenotaph plaza stones up to grade and improve accessibility to the cenotaph.  On Remembrance Day 2019, plans for the centenary celebration on April 9, 2020 will be announced.
Reception after the ceremony in the Rowing Club at Stanley Park - refreshments, displays, information. Everyone welcome.
戦没者追悼記念式典が、11月11日午前10時40分より、スタンレーパーク内の日系カナダ人戦没者慰霊碑にて行われます。来年の記念碑100周年に向けての計画も発表いたします。式典後にローイングクラブでレセプションが開かれます(軽食・展示物・情報提供)。ご自由にご参加ください。