Resilience Fundraiser Campaign
April 1, 2020 - January 22, 2021
Thank you to all our supporters for giving to our Resilience Fundraiser campaign, and believing in our cause. The coronavirus pandemic brought unprecedented challenges to our organization in 2020, however through resilience, resourcefulness and the generosity of our campaign donors, the Nikkei Centre persevered through the year, and found new ways to remain operational and serve the community. We were guided by the Japanese proverb "The bamboo that bends is stronger than the oak that resists".
Our campaign supporters have helped ensure we can continue to fulfill our mission to honour, preserve and share Japanese culture and Japanese Canadian history and heritage for a better Canada. Between April 1, 2020 - January 22, 2021, $306,501.23 was raised for essential operational funding of the NNMCC.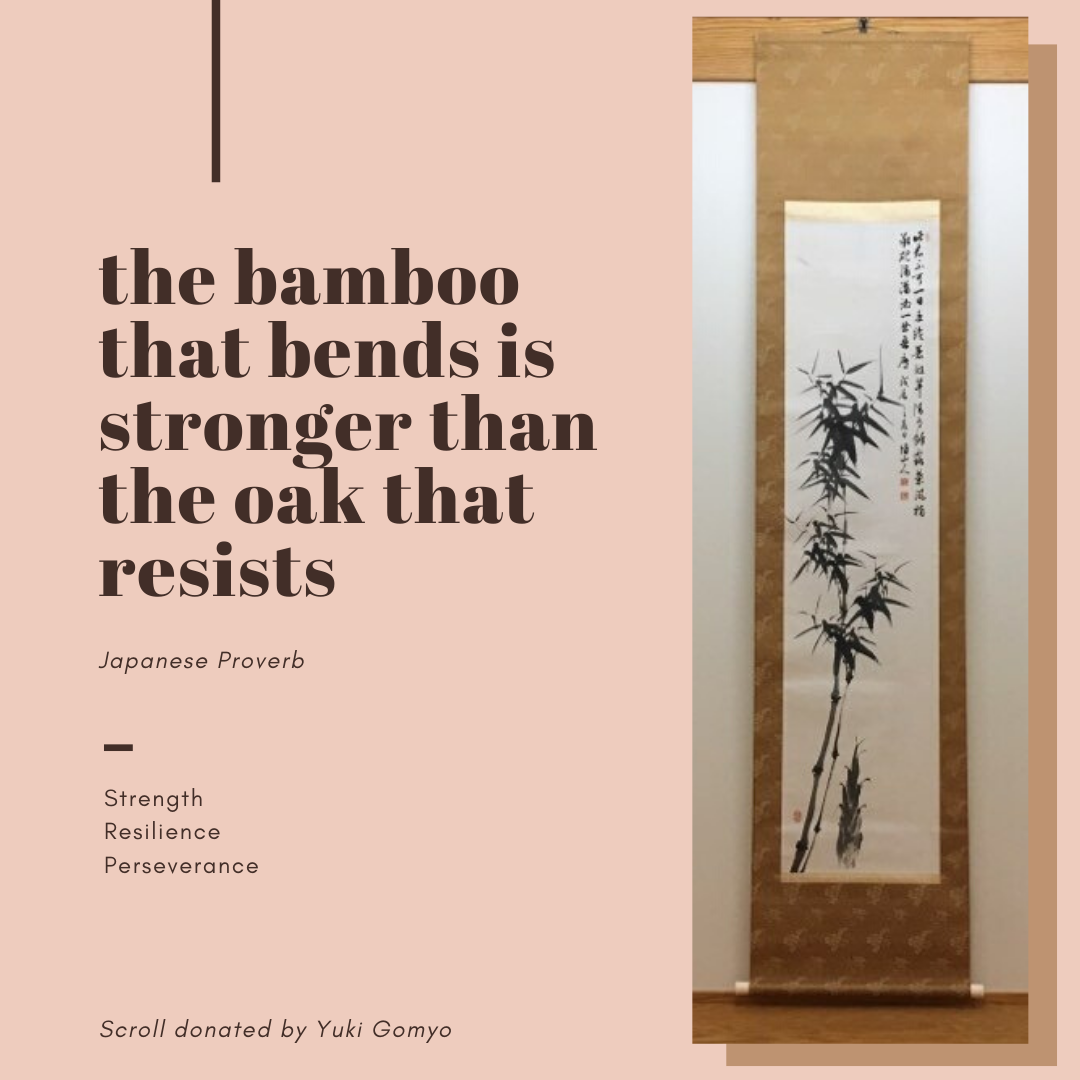 Scroll donated by Yuki Gomyo, pictured hanging in the NNMCC Hidekazu (Harry) Kusumoto Tatami Room

Thank you to our donors for supporting Nikkei National Museum & Cultural Centre!
The Board would like to take this opportunity to acknowledge the following very generous matching and major donors:
Akiko Gomyo, Roy & Audrey Hamaguchi & Family, Dr. & Mrs. Donald and Francoise Jinnouchi, Yoshiko Karasawa, Kaori Namiki, Linda Kawamoto Reid, Ken & Junko Shinozaki, Henry & Yvonne Wakabayashi, Fred & Linda Yada, Sam Yamamoto and Anonymous
Gifts from April 1, 2020 - January 22, 2021
Anonymous (31)
Janet Abe
Michael Abe
Akiye Kay Akada
Aikido Vancouver Shomonkai
Akiko Gomyo Foundation
Louise Akuzawa & Ronald Kruschen
Miwako Aoki
Grace Asao
Yoshiharu & Fumiko Aura
Connie Ball
Yasuhiko Bando
Jennifer Barnett
Jaroslava Belava
Lillian Blakey
Alice Asako Bradley
Troy Bullock
Steven Cain & July Ono
Joseph & Danielle Cantafio
Marnie Carter
Akiko Chijiwa
Noriko Chijiwa
Sachiko Chijiwa
Takashi Chijiwa
Rebecca Choi
Teesa Christie
Sylvia Christopoulos
Ruth & Michael Coles
Dr. Millie Creighton
Ian Cubitt
Dean & Ayumi Dalke
DMCL Chartered Professional Accountants
Jennie Dong
Kaoru Dubitz
Cameron Dustin
Elaine Englar
Den Enjo
Randy & Lynn Enomoto
Svetlana Ershov
Fortis BC Energy Inc.
Fortis BC (Art Kanzaki)
Fortis BC (Joanne Hunton-Sehdev)
Fortis BC (Ian Miki)
David & Beverley Foy
Joseph Fry
Katsuyo Fujishima
Godo Family
Yoshiko Godo
Akiko Gomyo
Roy & Audrey Hamaguchi & Family
Mutsumi Hamakawa
Kathy Harris
Erika & Ken Hasebe
Yoshiharu Hashimoto
Takeshi Hayakaze
Mitsuo Hayashi
Dr. Kaye Hayashida
Emily Hirai
Miki & Miyako Hirai
Shigeru & Akemi Hirai
Ayumi Hirose
George & Elaine Homma
Reiko Cheryl Honkawa
Fumiko Horii & Mike Sokugawa
Naoto & Mimi Horita
Toshie Hosonuma
Leslie Ikeda
Kevin & Denise Isomura
Frances Isomura
Hiroshi & Takako Iura
Don & Kumiko Iwanaka
Richard & Maureen Iwanaka
Takashi Iwata
JC Coalition
Jim Pike Ltd.
Dr. & Mrs. Donald & Francoise Jinnouchi
The Johnston Family
Stephanie Jost
Ellen Kadonaga
Shinobu Kadome
Paul & Naoko Kadota
Bill & Toshiko Kajiwara
Sherri Kajiwara
Kami Insurance Agencies Ltd.
Edward Kaminishi
David Kamiya
Frank & Naomi Kamiya
Randy Kamiya
Art Kanzaki
Yoshiko Karasawa
Stephanie Kawamoto
Mitsuko Kawashima
Lynne & Yu-Zhi Kiang
Ed & Doris Kimura
Sato Kobayashi
Thomas & Kumiko Kobayashi
KODO COLLECTION
Elsie Komori
Miwa Komori
Bruce Kosugi
Lorna Koyanagi
Kay Kozaka
Reiko Kurushima
Frederick Lackmance
Ryan & Eliza Lang
Linda Lawrence
W. B. Lee
Kim Louie
Kaori Lytton
Ronald & Reiko MacQueen
Cathy Makihara
Robert Maruyama
David Masuhara
Gary & Nobuko Matson
Edward & Esther Matsubuchi
Heather Matsune
Tom & Yoko Matsuno
Allan & Keiko Mayede
Kimi McDiarmid
McMillan LLP
Bill McNulty
Theo Melo
Joseph, Patrick, Debbie Miki
Evy Miki
Ian Miki & Chieko Chijiwa
Kathy Miki
Nancy Miki & Adam Smith
Dr. Patrick & Diane Miki
Tsuneo & Noriko Miki
Tsuneko Miki
Fumiko Miyahara
Hiné Mizushima
Harry & Akemi Mizuta
Elmer Morishita
Lillian Morishita
Wakako Morris
Krysta Mukai
Patrick Mukherjee
Catherine Nakagawa
Daniel & Rury Nakagawa & Family
Kaori Namiki
Roberta H. Nasu
Janet Nasu
Noriko Nasu-Tidball & Dan Tidball
Jacqueline Nicks
Nikkei National Museum & Cultural Centre Auxiliary
Donald Thomas Nishio
Sunni Nishimura
Mark Noda
Dan & Colleen Nomura - Canadian Fishing Company
Lori North
Joyce Oishi
Glenn Ohashi
Derek Okamura
Dr. Jeffery & Susan Okamura
Sachiko Jean Okamura
Dr. Wayne Okamura
Carrie Okano
Nancy N. Okano
Marion & Dr. Douglas Oldenburg
Odlum Brown Limited
Herbert Ono & Tara O'Connor
Santa Ono & Gwendolyn Yip
Ounce of Prevention Solutions Inc.
Lui Passaglia
Pathfinder Asset Management Limited

Gwendolyn Kinu Perkins
Ernest & Toshiko Quan
Salim Rahman
Chikako Rahman
Karen Read
Linda Kawamoto Reid
Kazuko & Robert Rezansoff
Evelyn & Michael Saito
Pat M. Sakai
Tom & Ayako Sakaino
Michiko Sakata
Rumi Sasaki
Kumi Shanahan
Grant Shellborn
Kazuhiro Shibata
Howard & Sher Shikaze
Janet Shimizu
Kathy Shimizu
Alan & Betsy Shimokura
Howard Shimokura
Ray & Joyce Shimokura
Ken & Junko Shinozaki
Norman Shuto & Patricia Wallace
Roy & Tsuyako Sokugawa
Peter & Masako Stillwell
Shinichi & Rumiko Sueyoshi
Eddie T. Suguro
Kumi Sutcliffe
Cheryl Suzuki
Debra Suzuki
Satsuki-Kai
Toshiko Tabata
Tracey Tabata
Kenneth & Rosemarie Takeuchi
Rebecca Talbot
Michael Tanaka & Yayoi Nagai
June Tanemura
Christine Tamaki
Jack & Tami Tasaka
Charles Tasaka
Janine Tasaka
Tamlyn Tomita & Daniel Blinkoff/The Umami Fund
Harry Tonogai
Toshiyuki & Yukiko Tosa
Saeko Tsuda
Carol Tsuyuki & Craig Tomlinson
Joy Tsukishima
Ruth Tsukishima
John D. & Jean Turnbull
UBC Student Services-Scheduling
Hayato Ueda
Ronald Ui
Margie Uyeda
Anibal & Tracey Valente
Vancouver Japanese Gospel Church
Vancouver Tankakai
Henry & Yvonne Wakabayashi
Ryoko Ward
Shino Watanabe
Yuichiro Watanabe
Dr. Michael Wilson
Wing International (Trading) Inc.
James & Donna Wuest
Roy Yabuki
Rickey & Margaret Yada
Fred & Linda Yada
Betty H. Yagai
James Hajime Yamada
Terry, Mari, Jason, Kristiane and Tyler Yamada
Irene C. Yamakawa
Sam Yamamoto
Warren Yamasaki & Cheryl Kosaka
Beverley T. Yamaura
Chieko Yano
Mas & Kaori Yano
Fred Yasuda
Homma & Yasui Family
Felicia Yee
Carl T. Yokota
Christine H. Yoshida