Broken Promises
Grounded in research from Landscapes of Injustice – a 7 year multi-disciplinary, multi-institutional, community engaged project, this exhibit explores the dispossession of Japanese Canadians in the 1940s. It illuminates the loss of home and the struggle for justice of one racially marginalized community. The story unfolds by following seven narrators. Learn about life for Japanese Canadians in Canada before war, the administration of their lives during and after war ends, and how legacies of dispossession continue to this day.
Take a video tour here
Venues
2021 fall, JCCC Toronto
2022 February 5-April 24, Museum of Surrey
2022 June 10-November 13, Royal BC Museum
2023 February 11-April 23, Canadian Museum of Immigration at Pier 21
2023 May-September 3, Galt Museum & Archives
2023 September-February 2024, Exploration Place, Prince George
2024 March-September 2, Nanaimo Museum
Exhibit for small venues
2021 summer-fall, Sunshine Valley Tashme Museum
2022 February 26-May 29, Touchstones Nelson Museum of Art and History
2022 June 6-September 7, Qualicum Beach Museum
2022 September-December, Langham Cultural Centre
2023 mid July-mid September, Cowichan Historical Society
2023 October-December, University of Victoria
2024 January 15 – April 28, Bradley Museum, Museums of Mississauga
2024 Summer, Salmon Arm Museum
2024 September-December, Bulkley Valley Museum
Booking contact: [email protected] | 604.777.7000 ext.121
日本巡回展示予定
「Broken Promises 破られた約束-太平洋戦争下の日系カナダ人ー」
2023年11月1日~2024年2月25日 滋賀県平和祈念館
2024年4月1日~6月30日 カナダ・ミュージアム 和歌山県美浜町
2024年秋 京都(開催場所は未定)
2025年時期未定 JICA横浜海外移住資料館
The Suitcase Project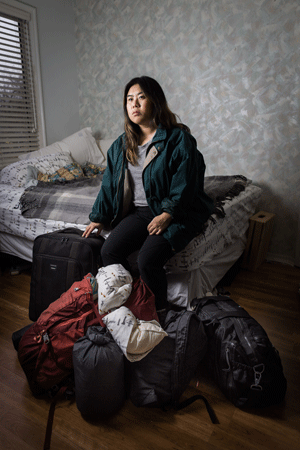 What would you pack if forcibly removed from your home today?
The Suitcase Project is a multimedia exhibition asking yonsei and gosei (fourth and fifth generation) Japanese Canadians and Americans what they would pack if uprooted from their homes in a moment's notice.
While these descendants of the internment and incarceration may never have to endure the same forced uprooting as their ancestors, Kayla Isomura's work examines how they, and those descended from families who experienced other forms of discrimination, remain affected by this history today.
More than 80 subjects ranging in age and background share their stories from cities in British Columbia, Canada and Washington, US through a series of photographs, short films and interviews.
Venues
Originating venue, Nikkei National Museum, Burnaby BC: June-September 2018.
Jan 18, 2020, Lethbridge, AB, The Nikkei Cultural Society of Lethbridge (film screening and talk by Kayla Isomura)
2020 Feb-July, San Francisco, CA, USA | National Japanese American Historical Society
2022 April 4-July 2, Sidney Museum
2022 Dec 1 - Jan 27, 2023, Alberni Valley Museum,
2023 February 9-May 20, Chilliwack Museum
2024 January-August, PAMA Peel Art Gallery, Museum and Archives
2025 July-September, Swift Current Museum
Exhibit for small venues
2022 May, University of Alberta
2022 July-November, Cortes Island Museum & Archives Society
2023 June 1-30, Salt Spring Island Public Library presented by the Japanese Garden Society of Salt Spring Island
Booking contact: [email protected] | 604.777.7000 ext.121
Kikyo: Coming Home to Powell Street
Tamio Wakayama (1941-2018)
Tamio Wakayama's work is an intimate photo documentary that artfully captures the first 15 years of the Powell Street Festival first exhibited in 1992.
ABOUT TAMIO WAKAYAMA
Tamio Wakayama was born in 1941 a few months before the Japanese attack on the American naval base of Pearl Harbour in Hawaii and the ensuing outbreak of the Pacific War. He and his family were part of the community of some 22,000 Japanese Canadians who were declared to be Enemy Aliens, dispossessed of the accumulated wealth of a lifetime, rounded up and placed in remote internment camps in the interior of B.C. where they spent the war years. The central challenge to Tamio's life was to come to terms with that history and to regain a sense of self that was lost in the corrosive racism of his childhood. The long journey to redemption and empowerment began in 1963 when Tamio dropped out of University and went south to join the Civil Rights Movement. It was in Mississippi that the artist first began his career as a photographer.
Tamio's work has been exhibited widely both nationally and internationally in such venues as the Smithsonian Institution. His images have also appeared in numerous TV and film documentaries, magazines, books, book covers and catalogues. Tamio is the author of two major books, Signs of Life and Kikyo: Coming Home to Powell Street, as well as a major contributor to the book version of A Dream of Riches. The artist's early works was recently featured in a major travelling exhibit and book, This Light of Ours: Activist Photographer of the Civil Rights Movement, produced by the Leonardo Centre for Documentary Arts and Expression, Salt Lake City, Utah.
Booking contact: [email protected] | 604.777.7000 ext.121