COVID-19 Update
After the centre's re-opening in June, programs are gradually re-starting according to the needs of their respective activities, instructors, and participants.
The following programs have resumed in-person meetings as of July 24, 2020:
Unfortunately, badminton groups are not accepting new members at this time. Please confirm in advance with the instructor for all other programs if you wish to join for the first time.
All other programs are monitoring the situation and planning for a return in the fall or later. We will try to keep this website updated, but before planning to attend a regular program, we recommend confirming with the program instructor if their contact information is listed, or if not, with cnakagawa[at]nikkeiplace.org.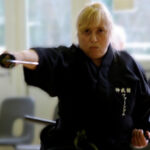 Iaido is a series of solo forms practiced using a katana, which builds character through physical and mental self-discipline.
> read more
Arts & Culture
Bonsai
Calligraphy (Shodo)
Satsuki Kai Japanese Dance (Nichibu)
Igo Club 
Kimono Dressing
Sushi Class 
Tea Ceremony Club (Urasenke)
Tea Ceremony Workshops (Omotesenke)
Health & Fitness
Adult Badminton
Hula Dance
Jiriki Seitai 
Line Dance
Martial Gym
Hatha Yoga for All Levels with Kazuko 
Taz Badminton
Seniors Programs
Senior Badminton 
Seniors Gateball  
Seniors Health Taiso and Massage 
Seniors Karaoke
Gladstone Japanese Language School
Kindergarten class (3 year olds)
Tuesdays, Thursdays & Fridays, 10am-12pm
Kindergarten Class (4 year olds)
Tuesdays, Thursdays & Fridays, 10am-12pm
Kindergarten Class (5 year olds)
Wednesdays & Fridays, 4pm-5:30pm
Saturdays, 2pm-3:30pm
Elementary school Class
Tuesday to Friday, 4pm-5:30pm
Saturdays, 9:20am-10:30pm, 10:40am-12:10pm
Junior High School Class
Wednesdays, 4-5:30pm
Saturdays, 10:40am-12:10pm, 12:20pm-1:50pm
High School Class
Saturdays, 12:20pm-1:50pm
Nikoniko Hiroba with Mother (2 year olds)
Tuesdays, Thursdays & Fridays, 12:15pm-1:15pm
The Japan Kanji Aptitude Testing (February & June)
Fundamental Japanese classes for English-speaking Children (3, 4, 5 year olds)
Fridays, 2-4pm
Fundamental Japanese Classes for English-speaking Children (Elementary School Children)
Wednesdays, 4pm-5:30pm
Fridays, 4-5:30pm, 5:40-7:10pm
Saturdays, 12:30-1:50pm
*For more information, please contact at 604.515.0980 or visit gladstonejlschool.blog79.fc2.com/
How to Register for Programs
Some programs at Nikkei Centre are run by the NNMCC and offer Membership discounts, while others are independently run by the program instructor.
1) For NNMCC run programs, you can register at the Nikkei Centre's front desk during regular operating hours.
2) For all other programs, please contact the instructor if his/her phone number is listed.
Program Fees:
Program fees required in full at time of registration.
All prices exclude 5% GST and 5% Facility Enhancement Fee*
Effective May 1, patrons of NNMCC-operated programs have the option of purchasing a Membership to enjoy a 15% year-round discount on program fees, or paying a mandatory 5% Facility Enhancement Fee for each registered program.
Fees can be paid in person by cash, cheque, debit, VISA, or Mastercard, or by phone (604.777-7000) with a VISA or Mastercard.
*Members are exempt from 5% Facility Enhancement Fee. Please have your membership card ready at time of registration.
Cancellation Policy:
Refunds (minus 10% admin fee) available eight or more days prior to start of program. No refunds within seven days of program start.