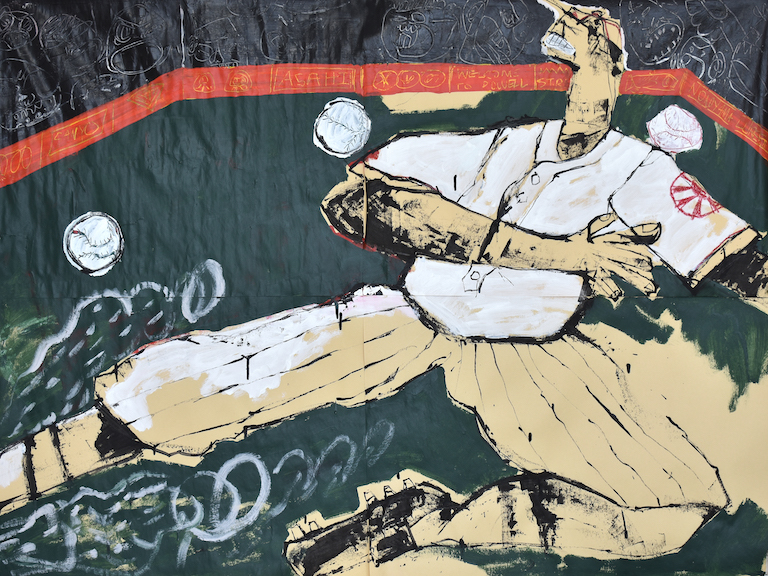 October 23, 2021 – April 30, 2022
Through the lens of the historic Vancouver Asahi baseball team, contemporary Canadian artist Kellen Hatanaka explores issues of race, xenophobia, representation, and implicit bias that are relevant in both sport and society today.
Interpreted in contemporary painting, and sculpture, all primarily working with paper, his visual stories offer both warning and help to erase thinking and behaviours that continue to exclude minority groups. Hatenaka re-imagines the influence and importance of the Vancouver Asahi through yonsei (4th generation) eyes. 
Adjacent to this contemporary installation is a heritage corner drawing on the NNMCC archives to round out the historical story of the Vancouver Asahi.
Artist bio
Kellen Hatanaka is an artist and designer from Toronto, Canada. He has worked with a variety of clients including Nike, Casper, The Wall Street Journal, 7D8, The Polaris Music Prize, The Walrus, The Drake Hotel, Sid Lee, Bruce Mau Design, Frank and Oak and Absolut Vodka. He was awarded the Governor General's Award in 2016 along with Jon-Erik Lappano for their book, "Tokyo Digs a Garden."