Board Members
Meet the Nikkei National Museum & Cultural Centre's Board of Directors (2022-2023)
Herbert I. Ono
President
Herbert is the Co-Chair of McMillan LLP's Japan and US Securities Practice Groups, with two years' experience as a foreign lawyer with the Tokyo "Big Four" law firm known as Nagashima, Ohno and Tsunematsu. A sansei born and raised in Sechelt, BC, he holds Master of Laws, Bachelor of Laws, and Bachelor of Arts degrees, and is committed to advancing the mission of the NNMCC.
Carrie Okano
Vice-President
Carrie was born in Burnaby, BC and attended Simon Fraser University. She worked for 25 years in various human resources roles including senior leadership positions. More recently Carrie has provided consulting services in human resources to a broad range of clients in the private, public and not for profit sectors. Carrie has served on the NNMCC board as a member of the human resources committee, as secretary, and is currently a member of the governance/nominations committee. She enjoys being part of a dedicated group of directors and values being able to support the NNMCC in all of its important endeavours.
Kevin Isomura
Vice-President | Community Awards Dinner Co-Chair
Kevin has been a director of NNMCC since 2016 and has served as Vice-President, Chair of Community Awards Dinner, and member of the Executive and Finance Committees.

Kevin is a partner with Dale Matheson Carr-Hilton Labonte LLP and is a Chartered Professional Accountant who has over 30 years of financial experience. Kevin has a Bachelor of Commerce from UBC and has served as a director of various private and not-for-profit organizations. As a sansei whose parents were interned in Greenwood and Tashme, Kevin is committed to preserving Japanese Canadian history and advancing NNMCC's mission.
Ron Kruschen
Treasurer | Chair, Governance & Nominations & Finance Committee
Ron has been on the NNMCC Board since 2014 and currently serves as the Society Treasurer, Chair of the Audit & Finance and the Nomination & Governance committees. He is also actively involved with major NNMCC fundraising events. Prior to retirement, he was president of a national Investment Consulting firm serving Institutional investors such as Foundations and Pensions. He is currently on the boards of several Arts and Culture Not-For-Profit organizations and also sits on the board of several investment industry organizations. Ron holds a degree in Econometrics, an MBA and is a fellow of the Institute of Corporate Directors holding the ICD.D designation.
Ian Miki
Secretary
Ian has been a director since 2012. He is a third generation Japanese Canadian, born and raised in Surrey, BC. As a professional engineer with a MBA, Ian is a Project Director with FortisBC Energy Inc. He has been involved in many Japanese community groups including Japanese school, kendo, bonsai and the Powell Street Festival. Ian and his wife Chieko have three children.
Louise Akuzawa
Director | Chair, Nikkei Matsuri
While working in both business and not-for-profit sectors including BC/Yukon Society of Transition Houses as an Office Manager, Louise has also been a senior reporter for the Japanese weekly newspaper Vancouver Shinpo. For many years, Louise covered local arts and culture stories. She was also a coverage team member for the 2009 Canadian visit of the then Their Majesties the Emperor Akihito and Empress Michiko of Japan.

Louise has been Chair of NNMCC's major fundraising event Nikkei Matsuri since 2016. She sits on the NNMCC Fundraising, Community Award Dinner and the Japanese Immigrants committees, and is a member of the Japanese Community New Year's Celebration organizing committee.

Louise grew up in Tokyo and lives in Vancouver with her husband Ron Kruschen, the NNMCC Board Treasurer, and their son Naruhito, who works as a NNMCC facility staff while attending university. She looks forward to continuing to contribute to the community.
Dean Dalke
Director
Dean is a lawyer with DLA Piper (Canada) LLP where he has practiced since 2004. His law practice focuses on commercial litigation and general advice to corporate clients, including Japanese companies. He and his wife Ayumi have three young sons. He lived in Fukuoka for one year (2007-08) and obtained a master's of law from Kyushu Daigaku. While in Japan he completed an internship at the Japanese law firm Nishimura & Asahi in Tokyo. Since returning to Canada, he has visited Japan almost every year.

Dean is eager to contribute to the mission of NNMCC so that his sons will have opportunities to preserve their Japanese heritage and to learn about the history of Japanese immigrants and their contribution to Canadian society.

Outside of the NNMCC, he has served on the board of an international development charity (ACTS.ca) for over 10 years and is currently vice-chair. He is also a member of the Canada Japan Society of BC.
Kiyo Godo
Director
Kiyo is the Managing Director for Lightheart Properties and Darby's Hospitality. These entities operate a number of businesses from a pub and liquor store to real estate portfolio. He previously consulted internationally for a product and brand management company and continues to provide consulting services to executive teams, committees and boards today. Kiyo holds an Engineering Degree, Business Degree in Real Estate, MBA, and a black belt in Karate.

As a third generation (sansei) Japanese Canadian, born and raised in British Columbia, Kiyo wanted to maintain, develop, and expose his 4 children to their Japanese heritage and community. He has been serving on the NNMCC board since 2017.
Naoko Hall
Director
Naoko was born in Fukuoka, Japan. She moved to Vancouver in 2017 with her family. She has been a board member of Vancouver's Japanese Business Association (Kiyukai) as the Secretary. In addition, she is a board member of Vancouver Fukuoka Kenjinkai and acts as a liaison between Fukuoka and Vancouver. Naoko is now the COO of Gabby Communications International Inc. in Canada while leading Gabby Academy Co. Ltd. in Japan as the CEO. Prior to these positions, she worked at Kyushu University for 16 years to foster a global mindset in Japanese students. Her company, the Gabby Academy offers a program to accelerate acquisition of second language speaking skills. The methodology is being invented jointly with a Neuro-Scientist from the University of Tokyo. Her goal is that, in the future, many people will develop the ability to communicate confidently in English, empowering them to connect with the world.
Cheryl Honkawa
Director
Cheryl is a sansei Japanese Canadian, born in New Westminster, and raised in the Fraser Valley. She graduated with diplomas from both Douglas College and BCIT in graphic design, media, and information technology. During a 30-year career with BC Hydro, she held various positions while working in the engineering, finance, distribution, and field operations areas of the company. As an admirer of various Japanese art forms, such as dance, hand crafts, and culinary arts, she has been a student of Japanese dance for over 25 years. A firm believer in giving back to one's community, Cheryl has volunteered for Canadian Cancer Society events, BC Cancer Foundation events, BC Hydro community events, the Powell Street Festival, has been elected to strata council several times, and is currently a very active member of NNMCC's Auxiliary, serving on their Committee as the Volunteer Coordinator. She is committed to assisting NNMCC's mission to honour, preserve, and share Japanese culture and Japanese Canadian history and heritage for a better Canada.
Gary Kawaguchi
Director
Gary has been the President of the Japanese Canadian Cultural Centre in Toronto since 2009 (board member since 1992), He recently retired having sold his Employee Group Benefits and Pension business. Prior to that, he was a senior executive in Finance, Operations, Marketing and Strategic planning in corporate Canada working in packaged goods, banking and telecommunications. He has also served as President of the Summit Golf Club and on the board of the Canadian Cancer Society. Gary brings synergy between the NNMCC and the JCCC.
Ryan Lang
Director | Japanese Canadian Cultural Centre Liaison
Ryan Lang is a yonsei and currently lives with his wife, Eliza, in Vancouver, BC. He first visited the Nikkei Centre when his great grandmother Tamako Miki moved to Nikkei Place in the early 2000s. Ryan's grandfather, Patrick Miki and his great aunt, late Joan Miki, have been significant contributors to the Nikkei Place. Ryan has attended many Nikkei events and would like to ensure the 4th generation Japanese Canadians are educated and active in the local community.

Ryan is a Managing Director at Deloitte Corporate Finance. Prior to Deloitte, Ryan spent 12 years in commercial and corporate banking, business strategy, and real estate development. Ryan holds a Bachelor in Business in Real Estate degree from the University of British Columbia, a Master in Business Administration from IE Business School in Madrid, Spain and is a CFA Charterholder.
Wakako Morris
Director
Born in Tokyo, Japan, Wakako spent much of her childhood in the Philippines and Peru. She graduated from Sophia University in Tokyo with a BA in Spanish and moved to Vancouver in 1979. Most of her career has been with the North Pacific Anadromous Fish Commission (NPAFC), a five-country international governmental organization as its administration and financial officer. After 30 years, she retired in 2016 and received a lifetime achievement award from the NPAFC.

Since 2014, Wakako has been volunteering as Nikkei Matsuri Games' Coordinator and joined the Board of Directors in 2016.

In her spare time, she is busy with many hobbies: golfing, kayaking, snowshoeing, playing classical guitar and piano, painting, and travelling. She resides in North Vancouver with her husband Alan, an economist and retired university professor. Their two grown sons now live in Tokyo and Toronto, respectively. She is a proud grandmother of two.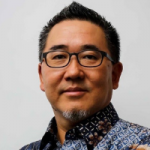 Kaori (Mick) Namiki
Director
Mick is the President & CEO of Mitsubishi Canada Ltd and a Director of Japanese Business Association of Vancouver (Konwakai) from 1st April, 2020. He graduated from Waseda University with a Bachelor of Economics in 1991 and started his career at Mitsubishi Corporation. He has been engaged in trading and investment in the mineral resources sector during his 30-year career and stationed in Shanghai, China (1999-2006) and Jakarta, Indonesia (2017-2020) in addition to Tokyo, Nagoya in Japan. Mick was very impressed to learn the history of Japanese Canadians and their contribution to Canadian society and he is very honored to be a board member of NNMCC and he hopes to contribute to the mission of the NNMCC and the prosperity of Japanese Canadian society.
Craig Natsuhara
Director
Craig is a fourth generation Japanese Canadian, born in Prince Rupert, BC. He has been an NNMCC Director since 1998, including five years as President and Co-President, and was a Director of the Japanese Canadian National Museum before the two organizations merged. He spent the first 11 years of his legal career practicing at DLA Piper (Canada) LLP (previously Davis LLP), and was mentored by Robert Banno. He has been at EY Law LLP since 2013. Craig is the proud parent of three children, Karsten, Kaeden, and Kaia. His wife Emily, is also involved in the Japanese Canadian community, including the Sakura Days Japan Fair and the Powell Street Festival.
Leigh Ann Shoji-Lee
Director | Chair, Strategic Planning Committee
Leigh Ann was born and raised in Chatham, Ontario. Her grandfather, Yasuzo Shoji, arrived in Canada from Japan in 1906. During World War I he served in the Canadian Army and after the war, he farmed in Whonnock, BC. The Shoji family moved to Ontario in the late 1940's. Leigh Ann is a graduate of the University of Toronto with a BASc in Mechanical Engineering and also holds an MBA. In 2001, she moved to Vancouver with her own family, for a work opportunity. She is currently President of Pacific Northern Gas (PNG); and EVP, Utility Operations for TriSummit Utilities. Leigh Ann has served on a number of non-profit Boards and recently completed a term as Chair of the Board of the Canadian Gas Association. With her Japanese heritage, Leigh Ann wants to give back to the community and is looking forward to supporting the work of the NNMCC.
Leslie Teramoto
Director
Born and raised in Vancouver, Leslie is nisei, has been a long-term volunteer at the NNMCC, and has served on the Board since 2010. She has worked in international business in the private sector, handling strategic planning and procurement. With the Government of BC, she has worked on corporate governance, 2010 Olympics, export development and strategic investments. Her experience has been in both natural resources and technology-based industries, spanning Europe, Asia and the United States. Leslie holds a Bachelor of Arts from McGill University and a MBA from the University of London. She also is a Board member with the Canada Japan Society of BC. Utilizing her skills and experience, she hopes to contribute further to the efforts and goals of the Centre.
Fred Yada
Director
Fred is retired and was a partner in the chartered accounting firms Ernst & Young and DMCL. Fred was the treasurer and director of the Japanese Canadian Redress Foundation for 10 years. He is the treasurer and director of the Nikkei Place Foundation. He is an honorary director of the Lions Gate Hospital Foundation and was the treasurer and Board member for 6 years. Fred is a past director of the Sarah McLachlan Foundation.

His most rewarding accomplishments were being president of NNMCC for 4 years and during his term with the Redress Foundation granting funds to acquire the land to build Nikkei Place.