Podcast: Play in new window | Download
SJCTM - 2 - Redress
Redress is the Canadian Government's official acknowledgement and apology for the wrongs it committed against the Japanese Canadians during World War II.  The Redress Agreement was signed by the Prime Minister of Canada, Brian Mulroney and the President of the National Association of Japanese Canadians, Art Miki, on September 22, 1988 in Ottawa.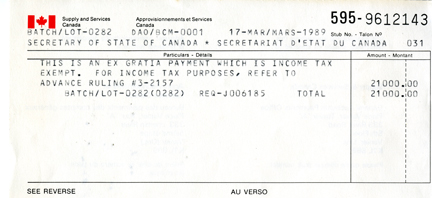 In this episode, Raymond and Alexis look at the three points and six sections of the Redress Agreement and unpack the meaning behind the stuffy wording.
Redress Agreement
Therefore the Government of Canada, on behalf of all Canadians, does hereby:
1
Acknowledge that the treatment of Japanese Canadians during and after World War II was unjust and violated principles of human rights as they are understood today.
2
Pledge to ensure, to the full extent that its powers allow, that such events will not happen again.
3
Recognise, with great respect, the fortitude and determination of Japanese Canadians who, despite great stress and hardship, retain their commitment and loyalty to Canada and contribute so richly to the development of the Canadian nation.
As symbolic redress for those injustices, the Government offers:
A
$21 000 individual redress, subject to application by eligible persons of Japanese ancestry who, during this period, were subjected to internment, relocation, deportation, loss of property or otherwise deprived of the full enjoyment of fundamental rights and freedoms based solely on the fact that they were of Japanese ancestry; each payment would be made in a tax-free lump sum, as expeditiously as possible.
B
$12 million to the Japanese-Canadian community, through the National Association of Japanese Canadians, to undertake educational, social and cultural activities or programmes that contribute to the well-being of the community or that promote human rights.
C
$12 million, on behalf of Japanese Canadians and in commemoration of those who suffered these injustices, and matched by a further $12 million from the Government of Canada, for the creation of a Canadian Race Relations Foundation that will foster racial harmony and crosscultural understanding and help to eliminate racism.
D
Subject to application by eligible persons, to clear the names of persons of Japanese ancestry who were convicted of violations under the War Measures Act or the National Emergency Transitional Powers Act.
E
Grant Canadian citizenship to persons of Japanese ancestry still living who were expelled from Canada or had their citizenship revoked during the period 1941 to 1949, and to their living descendants.
F
To provide, through contractual arrangements, up to $3 million to the National Association of Japanese Canadians for their assistance, including community liaison, in administration of redress over the period of implementation.
Produced and Hosted by Raymond Nakamura and Alexis Jensen
Music by Aiko Saita
Sources
Miki, Roy and Cassandra Kobayashi. Justice in Our Time: The Japanese Canadian Redress Settlement. Vancouver: Talonbooks, 1991. 
Miki, Arthur K.  The Japanese Canadian Redress Legacy: A Community Revitalized.  Winnipeg:  National Association of Japanese Canadians, 2003.
Ad Hoc Committee for Japanese Redress. Japanese Canadian Redress: The Toronto Story.  HPF Press Toronto, 2000.
Price Waterhouse.  The National Association of Japanese Canadians: Economic Losses of Japanese Canadians after 1941.  Vancouver: Price Waterhouse, 1986.
Link to Ann Sunahara's Politics of Racism: www.japanesecanadianhistory.ca
Link to Canadian Race Relations Foundation Website: www.crr.ca