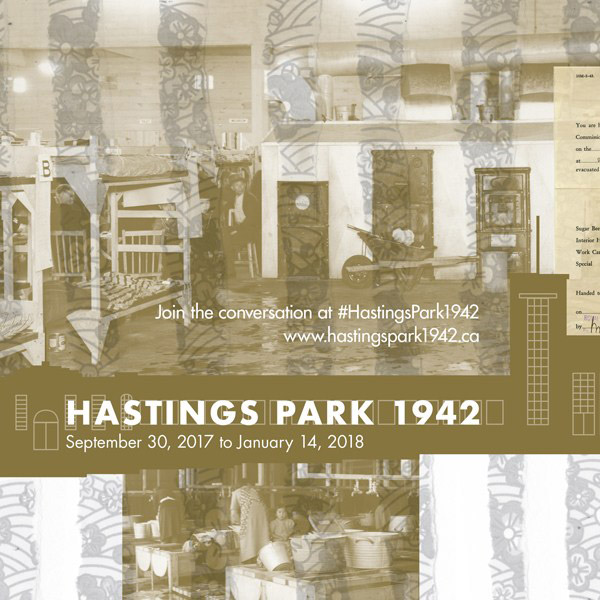 September 30, 2017 – January 14, 2018
In early 1942, over 8,000 Japanese Canadians were incarcerated at Hastings Park in East Vancouver before being sent to internment sites in the BC interior or to work camps across the country.  The 
Hastings Park 1942
 exhibit is a collaboration with performance artist 
Yoshié 
Bancroft, to produce an experiential, dramatic glimpse into that tragic episode of Canada's history.
This exhibit features a special video installation of Universal Limited's JAPANESE PROBLEM on a re-created stall from Hastings Park.
Hastings Park 1942 & JAPANESE PROBLEM explore a collective memory that we can and must learn from so as to never repeat.
---
JAPANESE PROBLEM
This piece invites an audience into a stall, which residents have turned into a temporary home and place of wonder, as they are filled with the uncertainty of their next destination.
The work exists in the contemporary moment simultaneously where evidence of Hastings Park's former tenants has been erased, where survivors are uncertain if they want their names included in a memorial, and where refugees to North America are being treated in a fashion that is terrifyingly familiar.
JAPANESE PROBLEM is a title derived from the nomenclature of WWII, but containing in it the understanding that the citizens affected at the time were neither Japanese–they were overwhelmingly legal residents/citizens of Canada, nor problematic–with zero verifiable connections to activities against Canada.
JAPANESE PROBLEM is screened hourly during gallery hours: Tuesday-Sunday, 11-5pm.
 JAPANESE PROBLEM by Universal Limited,  video installation, 40 minutes run time
Georgia Straight: Theatre review by Kathleen Oliver |  September 25, 2017
Japanese Problem is site-specific theatre at its most powerful
CBC News Article by Tamara Baluja | September 21, 2017
'The history is not safely in the past': play explores wartime Japanese detainment
Globe and Mail article by Marsha Lederman | October 10, 2017
'In Vancouver, two new works of theatre examine the 'Japanese Problem' 75 years later'
---
Exhibit Programming
Opening and Commemoration 
September 30, 2017, 1-4pm at PNE Livestock Barn, Hastings Park
Meet across from the Hastings Racecourse (188 N. Renfrew St.)

Join us for an opening reception of Hastings Park 1942 with special speakers and light refreshments.
Note: this September 30th date is significant as the final day Japanese Canadians were allowed at Hastings Park in 1942 before being sent off to internment camps across BC, road camps, and sugar beet farms.
Reclaiming Movement: a body movement workshop
with Tada Hozumi
Saturday, October 7, 2017, 2-4pm
Our bodies embody the world we live in. Through this introductory workshop, explore breath and movement as practices of resilience to bring us into more inner balance and awareness of the world around us. This offering is inspired by body-centered therapist Tada Hozumi's experiments with applying principles from Asian physical disciplines (such as chi energy) to their own street dance movement practice.
JAPANESE PROBLEM live performance + artist talk back 
with Yoshié Bancroft + Joanna Garfinkel of Universal Limited Theatre.
Sunday, October 15, 2017
1:00pm – Performance
2:00pm – Performance
3:30pm – Artist talk back
Join us for a post-show discussion with the cast and crew. Learn about their collaborative process and behind-the-scenes work to create this immersive performance using elements of traditional theatre, storytelling, and composition.
KIZUNA: Past-Present-Future, a tribute to Japanese Canadian community
Haircut performance by Yoriko Gillard
Saturday, October 28, 2017, 1-4pm
Saturday, January 13, 2018, 1-4pm
Explore themes of trust, storytelling, loss, and dispossession while witnessing a live hair cutting performance. Participants in this project have a personal relationship or family history connected to the Japanese Canadian incarceration experience.
JAPANESE PROBLEM live performance + community meet & greet
Co-hosted by the Hastings Park Commemorative & Education Committee
Thursday, November 16, 2017
6:00pm – Performance
7:00pm – Performance
8-9pm – Community meet & greet with Hastings Park committee
Meet the cast and crew of JAPANESE PROBLEM after the show. Also an opportunity to connect with others in the community and learn about educational projects currently taking place to preserve our living history and memory of Hastings Park. Light refreshments will be provided.
Speaking With Spirits: a writing workshop series
with Jeff Tanaka
January 27, 2018, 1-5pm.
We all have infinite stories lying within us. However, our journeys through time and space often create blockages that prevent us from sharing what is most important to us. Look to ancestors, plants and the land for guidance and inspiration in this introductory writing workshop. Participants will be offered collaborative and multidisciplinary writing exercises to reflect upon the stories we carry with us every day, ones that have come before us, and those still to come.
All exhibit programming will take place at Nikkei National Museum & Cultural Centre unless otherwise stated.
Events and workshops are by suggested donation.
Limited space available – advance registration is recommended.
Join the conversation at #HastingsPark1942
Learn more about the history at hastingspark1942.ca