Enjoy Japanese Culture under the Cherry Blossoms at Nikkei Centre
O-Hanami Festival
Saturday, April 1, 2023
11am-5pm (doors open at 10:30am)
Admission $5. Free for NNMCC members, seniors 65+, children and youth 17 years old and under.
Stroll under the cherry blossoms on your way to Nikkei Centre to take in a day of Japanese culture at the annual O-Hanami Festival. You can take part in Japanese cultural activities such as tea ceremony and kimono dressing. Order a sakura-bento (a special spring themed lunch box) and watch live music and dance performances. 
Resident martial arts groups such as karate, judo, and iaido will perform public demonstrations. Enjoy shopping for Japanese clothing and handmade crafts. A variety of Japanese street foods will be available. 
Samurai show
2:45pm at Hall Stage
For the first time, we present a live samurai sword fighting show led by Japanese actors Yuki Kedoin and Haruno Niiyama together with their students from Tozenji, Coquitlam. Come see this rare live action show in person - the kind of thing you only see in samurai movies. Yuki and Haruno both teach samurai sword fighting classes at Tozenji in Coquitlam.
Supported by
O-Getsu Ryu | 桜月流美剱道
Hayashi Ryu | 林流
TOZENJI:Seizan Buddhist Studies and Cultural Centre | 東漸寺
WA NO GAKKOU:Japenese Cultural School | 和の学校@東漸寺
Pac West Kimono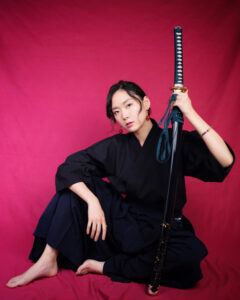 Performance Schedule
11:00am Opening ceremony, at Nikkei Garden
11:30am Taiko performance by Chibi Taiko, at Nikkei Garden
12:00pm Karate demonstration by Nikkei Karate, at Hall Stage
12:15pm Magic show by MagicJo, at Nikkei Garden
12:30pm Aikido demonstration by Aikido Vancouver Shomonkai, at Budojo
1:00pm Judo demonstration by Ishikawa Judo Club, at Hall Stage
1:30pm Yosakoi danced by Gladstone Japanese Language School students, at Hall Stage
1:45pm Hawaiian hula dance by Wailele Wai Wai, at Hall Stage
2:15pm Iaido demonstration, at Hall Stage
2:45pm Samurai show, at Hall Stage
3:30pm Japanese dance by Satsuki Kai, at Hall Stage
4:15pm Performance by Vancouver Okinawa Taiko, at Hall Stage
Performance by Chibi Taiko
11:30am at Nikkei Garden
The first children's taiko ensemble in Canada, Chibi Taiko was founded in the fall of 1993 with the goal of passing this unique and dynamic performing art on to the next generation of Asian Canadians. Members range in age from 6 to 23 years old. The group's philosophy emphasizes cooperation, leadership, responsibility and spirituality in addition to the physical and musical discipline needed to build a cohesive and dynamic taiko ensemble.
The training includes weekly practices and periodic workshops given by special guests.
Find out more about Chibi Taiko's weekly practice here.
Demonstration by Nikkei Karate
12:00pm at Hall Stage
Find out more about Nikkei Karate classes here.
Magic show for all ages
12:15pm at Nikkei Garden
Prepare to be enchanted by MagicJo in 'Live...Feel...Dream...moments of Wonder'! Witness the impossible made possible through the art of magic, as MagicJo takes you on a journey of mind-bending tricks with everyday objects like straws and chopsticks.
MagicJo brings his unique style to his performances with over 15 years of experience in the art and science of magic and juggling.
Demonstration by Aikido Vancouver Shomonkai
12:30pm at Budojo
The purpose of using aikido techniques is not to hurt an opponent but to bring the opponent's violence or force under control. One defends by first blending with an attack, and then using circular movements to redirect the attack into a throw or immobilization. In other words, aikido focuses on creating harmony between the attacker and defender, and bringing the conflict to a peaceful resolution.
Find out more about Aikido classes here.
Hawaiian hula dance by Wailele Wai Wai
1:45pm at Hall Stage
We are Hawaiian Dance Hula group. Since its foundation in 2006 in Vancouver Canada, Yoshi Yamamoto (instructor) studied Hula for 5 years in Hilo, Big Island of Hawaii under the Kumu (Master) Hula Maile Yamanaka.
"Wailele Wai Wai" means "a waterfall that flows endlessly". It signifies our intention to grow endlessly as individuals and enrich our own lives and of those around us.
Find out more about Wailele Wai Wai's classes here.
Demonstration by Iaido
2:15pm at Hall Stage
As a martial art, Iaido is a practice which focus on solo forms/katas. Both physical and mental aspects are polished through precision cuts and self-discipline, with a stronger lean towards the mental aspect as compared to some other martial arts such as Kendo.
Find out more about the Iaido class here.
Performance by Satsuki Kai Japanese Dance
3:30pm at Hall Stage
The Satsuki-kai was formed in May 2011 by Nishikawa Kayo of the Nishikawa School of Japanese classical dance to give people an opportunity to enjoy learning Japanese dance. The name comes from the pronunciation of the old name for May, "satsuki", although it is written with a different Chinese character meaning "colour". The hope is for people to have a more colorful, happier life through dance.
The group participates in many events, especially at Nikkei Place, and works hard to showcase Japanese culture through dance. Other community events include the annual Powell Street Festival, kimono fashion shows, performances at seniors' residences and other multicultural events.
Performance by Vancouver Okinawa Taiko
4:15pm at Hall Stage
Vancouver Okinawa Taiko, formerly known as Yuaikai Ryukyu Taiko, is an Okinawan taiko dance group that was formed in Metro Vancouver in 2004. The group wishes to be "ambassadors" of Okinawan folk performing art in which Okinawan style drumming and dancing combine together along with traditional as well as contemporary Okinawan music.
The group is inclusive, with a mix of generations. From youth as young as six years old to others in their 50s, the group's members reflect a true presentation of grassroots folk art.
Vancouver Okinawa Taiko has performed at numerous multicultural festivals, neighbourhood charity shows, Japan night at the Mariner's Safeco Field and the Cultural Olympiad 2008.
Get spring themed nails
Get ready to elevate your nail game with our fantastic gel polish manicures! Dahlia Flower Nails offers a wide range of fun and vibrant colors that are perfect for the upcoming spring season. And that's not all - we have a plethora of spring and floral nail stickers, including the beautiful cherry blossom designs that are simply irresistible.
Looking for something even more glamorous? We have you covered with our professional press on nails application service. Our skilled certified nail technician will ensure that you achieve the look of extensions with our premium press on nails.
Find us next to the Kimono Dressing area on the first floor.
Cocoaro Craft Chocolate
Coconama Chocolate
EF & B Bakehouse
Franklin Food Labs
Hatchan Takoyaki
Japadog
Japanese Crepe Sasuke
Kanadell Japanese Bakery
Koyuki
Takenaka
Tea Lani
Mukasi Coffee
NNMCC Auxiliary
Shop for Japanese items & Handmade Crafts
Art Cards by Valerie
Beauty Secrets of Japan
Hinto
Japanese Fabric Creations Shino
Kimono Love
Mikari
Pac West Kimono
Sasaki Art
Siamurai
Order a Sakura Bento
Pre-orders sold out as of March 22.
Pre-order your Sakura Bento and enjoy O-Hanami in style! Our Sakura Bento is specially crafted for this occasion in partnership with the Robert Nimi Nikkei Home. By purchasing the Sakura Bento, you are supporting both the Nikkei Home and the Nikkei Centre. The bento will be available for pick up in the lobby starting at 11am onward. Following food safety regulations, the bento will be stored in the fridge.
$28 including tax.
What is in Sakura Bento
A tasty, colorful, and satisfying Japanese lunch box that perfectly captures the spirit of spring. You'll find a delicious selection of
Gomoku Chirasizushi (mixed rice)
Karaage chicken
Tamago yaki (egg omelet)
Deep fried prawn
Salmon Tsukune (like a meatball but made with salmon)
Kobumaki (stewed kelp)
Nishime (stewed vegetables)
Tsukemono (pickles)
Sakura-mochi (seasonal dessert made for cherry blossom viewing)
How to order
Take part in a Tea Ceremony
The Eventbrite tickets are sold out. There may be a few tickets available on the day - please check in at reception on the day.
The Urasenke Tankokai Vancouver Association invites you to experience the Japanese Tea Ceremony multiple times a day during the O-Hanami Festival at Nikkei Centre on April 1. Secure your spot now by making a reservation.
The event will start at 11:30am, followed by sessions at 12:30pm, 2:00pm, 3:00pm, and 4:00pm. It will take place in our ambient Tatami room on the 2nd floor. The session will begin with a demonstration of the tea ceremony, and guests will be served tea and okashi, a Japanese sweet. The whole process will take about 45 minutes.
Most guests will be seated on chairs, while 2-5 people may sit on tatami. If you wish to sit on the tatami, please bring clean white socks to change into at the event, as this is one of the tea ceremony customs.
To ensure your booking, check-in 15 minutes before your scheduled time and enter the room at least 5 minutes before the event begins. The tea room is located on the 2nd floor towards the back of the building, opposite the Nikkei Japanese Bookstore.
As a bonus, tea ceremony attendees can enjoy a view of the cherry blossoms from the tea room balcony. Don't miss out on this unique and culturally rich experience.
Dress up in a Kimono
Sold out as of March 17.
Kimono rental & dressing by Fumiko Horan
Rental or bring-your-own-kimono.
Times: 11am~, 12pm~, 2pm~, 3pm~
Fee: $50 (general), $40 (NNMCC members), $30 (if you bring your own kimono). 5% GST will be added on.
The process includes dressing in a kimono, which takes about 15-20 minutes, plus having your hair styled. You can then take pictures or stroll around the festival for about 30 minutes while wearing the kimono. When the time is up, please return to the room to change back into your regular clothes.
Please make reservations in advance by phone (604.777.7000) or at the reception desk. Payment is also accepted at this time. Each session is limited to 4 people so we recommend early booking to avoid disappointment.
We express our gratitude to the kimono dressing volunteers who have generously donated their time and skills to provide this unique opportunity and support NNMCC.